Specialised Engineering Services
Relay Coordination Study & Analysis
Relay Coordination Study & Analysis
A Protective Device Coordination Study will show you the probable and possible values of fault currents within the system and show you the impact short circuits and failures would have on your fuses, circuit breakers, and your facility's operation.
In utility and industrial electric power transmission and distribution systems, a digital protective relay is a computer-based system with software-based protection algorithms for the detection of electrical faults. 
Such relays are also termed as microprocessor type protective relays. They are functional replacements for electro-mechanical protective relays and may include many protection functions in one unit, as well as providing metering, communication, and self-test functions.
Recent Post (Specialised Engineering Services)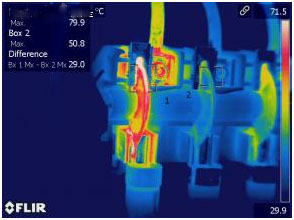 THERMOGRAPHY :Detect system overloads, loose joint connections, components and switchgear...
Read More
We Make The Most Of Your Power
TPTS is a team of enthusiastic individuals who has executed many prestigious projects in various market segments . ​

In Technical Association with

© 2019-20 Three Phase Technical Services LLC. All Rights Reserved.