Specialised Engineering Services
Arc flash hazard exists whenever personnel are servicing electrical equipment in the energized state. An Arc Flash Study is performed in order to determine the available arc fault currents and arc flash hazards. OSHA regulations clearly state that a Study MUST be performed to determine these values. By performing the proper arc flash studies by calculation, you're ensuring that your technicians are using the proper personal protection equipment (PPE) and safety equipment.
Increase facility reliability, equipment protection, and personnel safety Comply with NFPA 70E regulations.
Complete Arc Flash Study of your electrical panels
Single or One-Line Diagram of the electrical distribution panels in your system
Labeling of your Electrical Panels with OSHA and ANSI approved warning labels.
Complete Report of the Arc Flash Study for your records
Arc Flash PPE Purchase advisory report
Full Compliance of NFPA 70E and OSHA 1910 Arc Flash Regulations.
Recent Post (Specialised Engineering Services)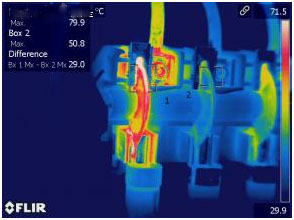 THERMOGRAPHY :Detect system overloads, loose joint connections, components and switchgear...
Read More
We Make The Most Of Your Power
TPTS is a team of enthusiastic individuals who has executed many prestigious projects in various market segments . ​

In Technical Association with

© 2019-20 Three Phase Technical Services LLC. All Rights Reserved.