Specialised Engineering Services
3rd Party Inspection & Testing
3rd Party Inspection & Testing
If safe, reliable operation of a newly-installed electrical power system and related components is to be achieved, several key components are required: The power system and components must be designed and engineered correctly. Quality equipment should be procured.
The installation must meet all applicable codes, standards, local utility regulations and be performed by qualified contractors and vendors.
Verification of all of the above should be performed through an independent, third-party inspection process. All information should be documented and archived for future needs.
While these are not daunting requirements, all too often these basic elements are not met when installing and commissioning an electrical power system. Improper adherence to specifications and contracts, lack of understanding, budget constraints, lot of sub-contractors and outsourcing, failure to utilize accredited testing and commissioning companies or a host of other reasons can lead to issues with the installation and operation of the electrical power system.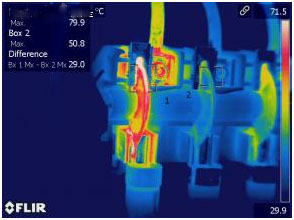 THERMOGRAPHY :Detect system overloads, loose joint connections, components and switchgear...
Read More
We Make The Most Of Your Power
TPTS is a team of enthusiastic individuals who has executed many prestigious projects in various market segments . ​

In Technical Association with

© 2019-20 Three Phase Technical Services LLC. All Rights Reserved.